Take your own church choir home with you...
...or play every solo to a large orchestral accompaniment!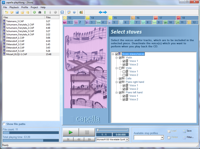 Enjoy making music!
capella playAlong makes it possible for you to choose the musical backing you want and to take it with you into your living room!
capella playAlong is the only software in the world that allows you to access an almost inexhaustible store of finished scores and to create your own play-along CD in no time at all.
What you need
Take any music file...
Your own or any other capella file: there are thousands of files available for free on the Internet.
Any Midi file saved in a Standard Midi Format (.mid); you can export files from any Midi sequencer or notation program you have or use thousands of free Midi files available on the web or on compact disks.
Any MusicXML file. This file format can be exported from capella or from any Midi sequencer or notation program that supports .xml files.
All you have to do is leave out your "part" while you're creating the CD; if you want to play along to the CD as a duo or trio, you can remove other parts too.
capella playAlong offers you unexpected possibilities
You are free to play each solo part yourself! The software comes complete with many scores encompassing every level from easy to challenging!
On the rare occasion when there is no capella score readily available for a specific piece of music, you can transform any sheet music into a capella score using capella-scan (not included)!
Nothing can go wrong!

capella playAlong has been designed to assist you. The software will take you through each step in a clear and understandable way, from choosing a capella file to adjusting the volume and from stereo distribution to burning the audio CDs.
Impressive sound quality
capella playAlong generates its own sounds:
How to address the capella Vienna orchestra and other sample players.
Why capella playAlong is better than any karaoke software
capella playAlong works with any file (capella, Midi, MusicXML) and of course with your own capella scores.
capella playAlong's sound quality is unsurpassed.
You edit the accompaniment: Balance, volume, articulation, metronome function to count in or as permanent accompaniment and many other things. The result is a compact disk which you can play back anywhere without PC.
All details
Facts: capella playAlong - an overview
System requirements
Windows 8.1, 10