Our office team consists of nine persons - six female, three male. TEAMWORK is not only written in capitals with us, but we live it daily: The whole is more than the sum of its parts.
We provide permanent jobs, reliable employment conditions and good pay.
We acknowledge not only individual strengths and performances but also weaknesses. We feel responsible for the support of each single personality with his or her potential and talents.
We expect loyalty and sense of responsibility, but at the same time we respect our employees' right to private life.
Our working conditions are flexible and guarantee high family friendliness.
We treat each other with friendliness, helpfulness and respect.
Regular staff meetings enable each employee to influence decisions.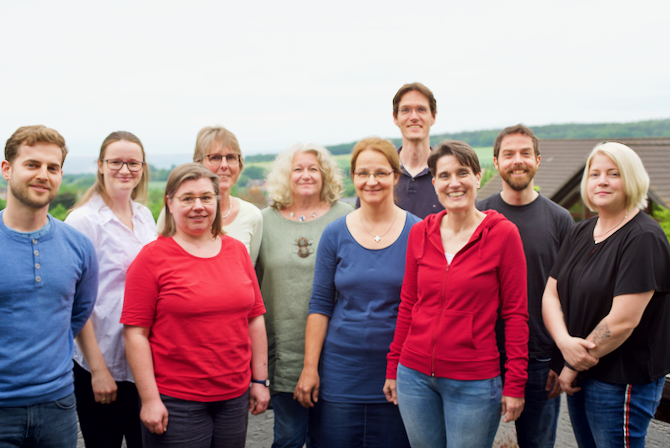 [Photo: Dorian Dziwisch, 2019]
Short portraits
Dr. Dominik Hörnel
Director of capella-software AG. Head of program development, marketing and innovations. In private life: Cellist in several orchestras and chamber music ensembles. In the company since 2016.
Ute Kirchner
Authorized officer. Fields of activity are human resources, finances and sales management. In private life: Choir director and gardener. In the company since 1998.
Christiane Ernst
Authorized officer. Fields of activity are support, marketing and social media. Musical activities: Piano and trombone player, singer. In the company since 1996.
Dorian Dziwisch
Computer scientist. In charge of development and maintenance of IT projects as well as technical product care. Hobby photographer. In the company since 2019.
Christiane Forst-Reuter
Foreign language correspondent. In charge of meetings and events, international website, translations and customer support. Piano player and choir singer. In the company since 2007.

Julia Gremler
Training as administrative assistant with capella-software. Fields of activity: Programming of company software, website and online shop. Viola player, choir and solo singer. In the company since 2004.
Markus Hübenthal
Software developer, mainly develops capella. Guitar player. In the company since 2019.
Michaela Menne
Specialist for postal dispatch and freight transport. Handles office work and dispatch, is responsible for all work in house and garden. Handball player. In the company since 2008.

Bettina Schmid-Rabe
Musicologist. In charge of all musical theory subjects. Administration of our score library. Customer service. Musical experience as choir manager. Piano, organ, violin and trumpet player. In the company since 2009.V