When you install software from your DVD (from DVD 2.11, on) or download from our website this always is a demo version.
Now there are three options when you start the program: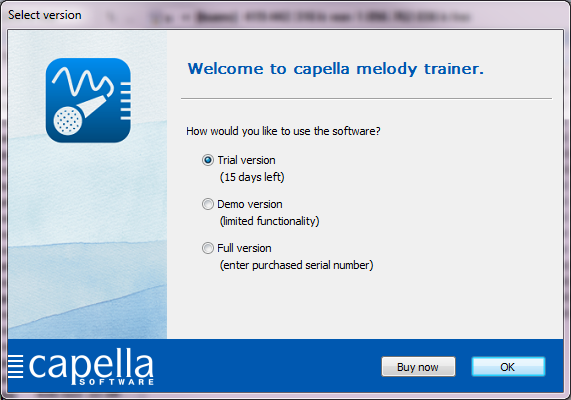 Trial version
This is new: You now have the option to try out a program for 15 days as full version with all functions. For this purpose your computer will need Internet access. After the trial period has expired the program will convert to demo mode, see below.
When you decide to use a trial version we will send a release code to your Email address. After submission of the release code we will enter your Email address to our newsletter mailing list. In the future we would like to provide you about once a month with tips and tricks helping you work with our software. Find our privacy statement here.
You can unsubscribe any time here.
Demo version
The demo version has limited functionality. In capella for example limitations affect saving and file export. The PDF user guide describes for each program what the limitations of the demo version are.
These demo and trial versions are available for all our programs except capella Vienna orchestra. If you wish to try out capella Vienna orchestra please address us.
Full version
When you already purchased the version you have received a serial number. Enter the serial number into the space provided and confirm with OK. This way the demo version converts into a full version.
Next a message is displayed informing you that you will have to activate the software within 30 days. Usually this can be done with one mouse click. If not you will still be able to work with the full version within this time.